Alpha Point Ltd. - 20th anniversary
This spring in the year 2002 Alpha Point has her 20th anniversary in flat screen business. Managing director Kari Hirvonen have been in charge of the company since early days from the establishment and now he will share some of the thoughts of the past development and expected future views.
Anniversary greetings
Pioneering the flat screen applications in 80's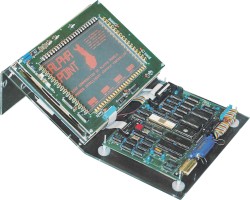 Newest of the from 1985, AP988030-controller board and Dixy plasma-display
After enthusiast development of a serial input data controller for PDP (Gas Discharge Panel) we opened a new way for flat screen display applications to be used in mobile vehicles and industry control rooms. Short after year 1985 this succesful controller was followed by a second generation serial controller capable to drive the PDP in full graphic features, animation and other modern drawing tools. On the other hand the company developed and launched a brand new Man-to-Machine device (Optical Touch Screen) in order to control entire computer systems by screen touches in stead of keyboards. Those were great pioneering times, the company expanded the total turn over and export by numbers every year.
Technology change in board circuitry
In Year 1989 we replaced the most standard IC's in the product circuitry by accepting the new PGA technology (Programmable Gate Array) and accomplished the first designs in our flat screen controller family. Quite fast we published new series of panel serial controllers equipped with a terminal emulator, pixel graphics and finally the capability to drive color flat screen displays. Early 90's we designed products compatible to domestic Finlux Electroluminescent Displays. Quite often that time we received the latest technology high resolution panels from the factory and after intensive around the clock work we adopted the product working with an AP controller, to be presented next week in SID USA (Society of Information Displays). At the second half of this decennium the development of LCD panels started to reach full acceptance as a flat screen alternative. Finally, when active matrix TFT color LCD's took over, the steady and fast grow of flat screen use took its role of today in flat screen business. Alpha Point has always been able to tightly follow the major role of this niche business by a continuous development and state-of-the-art technology adoption.
Then finally, color screens to PC systems
Since 1997 we have been quoting products capable to drive color flat screens replacing the old bulky CRT (Cathode Ray Tube) as a PC monitor. This is a great improvement. Now PC applications could finally extend to new areas in mobile, portable and most demanding harsh industrial environments. Today we sell controllers, display modules and monitors capable to hook directly to any PC standard VGA output. Currently we are – as leading Finnish flat screen R&D company – gradually quitting the traditional analog PC to be replaced by digital solution.
Superior digital display for the future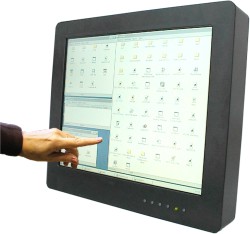 Newest of the new in 2001, AP800PRO/DVI/T
One and a half year ago Alpha Point launched first fully digital display controller upon DVI (Digital Visual Interface) standard. This new innovation was represented at ELKOM 2001 Show in Helsinki, where it was polled 'as best new innovation' by the visitors. Next years to come will revolutionize the PC display technology and soon replace most CRT monitors in use today. We'll be within in this development and ensure the best possible screen quality for most demanding resolution applications. At the moment we're involved a project to transfer PC SXGA picture fully digital and undegradieted for hundreds of meters. This link uses optical cable for the screen image transfer.
Global Business
This enterprise has since early establishment, focused to global niche market. During several years we've been able to export most of the manufacture (70-80 %) for that purpose we have the operational name Alpha Point Ltd. In general, we document and publish all written material in English.
Network of companies
Deep co-operation in past years with many other companies has leaded into a partnership where similar enterprises working in their own territories can effectively share knowledge, applications, experiments and other technical support. In this tight network Alpha Point Ltd. represents best Finnish engineering know-how. For that purpose and for our international customers we have launched this new Web Service.
Dear, current or to become, Customer,
Thank you for long mutual cooperation relationship and success. Welcome to celebrate our 20th anniversary with us.
Keep in touch. Best regards,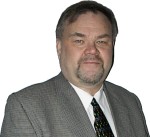 Kari Hirvonen
CEO